Hey Beavis
Yeah
This sucks dude
Yeah sucks sucks
Release Date
Edit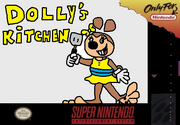 Dolly's Kitchen is an SNES game that appeared in nowhere; released in September 12th, 1993.
This game features Dolly Gopher as a playable cook, and a story begins where Dolly cooks her food inside her house with her family. "Am I a good cook? Or a bad cook?" asks Dolly Gopher to her parents. "Well yes of course you're the good cook. The best cook ever," says her mother. But then suddenly, an evil villain named Lord Scurvywiz the Skull-Headed Pirate has come to take over Dolly's acres and send Dolly to the Engine Land of Kripper. Her plan is to follow the metal head road and try to cook some food for the customers. After she defeats Scurvywiz, she is rewarded to have a celebration party with her parents and all of her friends. But then suddenly again, she begins to float away like a balloon.
Gameplay
Edit
Core gameplay is, however, the only gameplay that is divided into both cooking genre and side-scrolling 2D platformer genre. Unfortunately, if gamers put the Dolly's Kitchen SNES cartridge into the SNES system and then turn the power on, they will have 30 minutes as a time limit which is on the TV screen to play the game. If the time reaches to zero, the electricity will go off, but when they shut the SNES power switch off, the electricity will come back on.
Reception
Edit
Dolly's Kitchen has recieved negative reviews from critics, giving this game a 4.8 out of 10 from the Nintendo Power magazine.