This article is a Low Quality Article. Please expand this page.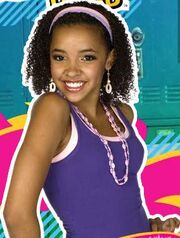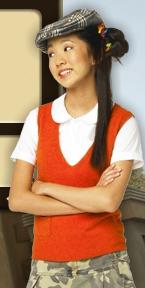 Robin Wheeler is a character in Re-Animated and Out of Jimmy's Head.
Appearance
Edit
In Re-Animated, Robin wears a green and grey plaid golfer's cap. She also wears camo pants, a red tanktop, and a white dress shirt underneath. She has long black hair which she sometimes wears in a double bun to the side.
In Out Of Jimmy's Head, she wears a purple tanktop with a white tank top underneath. She also wears a pink headband and white hanging earnings with yellow and white beads on the strings. She has a plastic pink necklace with spaced out oval shaped objects. She has short brown and stringy hair with subtle curls.
Personality
Edit
Robin is generally shown to be smart, level headed, and fashionable. Though she is the most popular girl in school, she's secretly Appleday Pictures' biggest fan and has a password-locked room so full of Appleday merchandise that Golly says that even he isn't as crazy about himself as her. Whenever she and Jimmy come into contact, Jimmy always gets mixed with his words. She ignores Jimmy at first, but once she finds out that he has Milt's brain and is seeing the cartoons, she takes an interest and comes to like everything about him. She is a very nice girl, but she may seem like a snob at first.
It's unknown if Robin really likes Jimmy.
She is one of several characters to go through a casting change. In Re-Animated, she is of asian descent and played by Eunice Cho. In Out of Jimmy's Head, she is of African American descent and is played by Tinashe Kachingwe.
She is the older sister of Craig Wheeler.
Community content is available under
CC-BY-SA
unless otherwise noted.